Meetings & Private Events
The Hood River Hotel is the perfect spot for your next meeting or private event. We're in the thick of downtown Hood River, close to year round outdoor beauty & adventure, and conveniently located near public transport. We offer a banquet room and also options to buyout the entire property. For more info email us at events@hoodriverhotel.com.
Banquet Room
Our versatile Banquet Room offers 2,500 sq. ft. of memory making, including a private entrance, restrooms, wet bar, dance floor, and audio equipment. Looking for a little more? The Club gives you an extra 1500 sq. ft. with private use of cardio equipment, dry sauna, and full shower facilities.
CAPACITY
Depends on Set-Up and Event Space Selection
RATES
$1,500 – Banquet Room
$2,000 – Banquet Room and The Club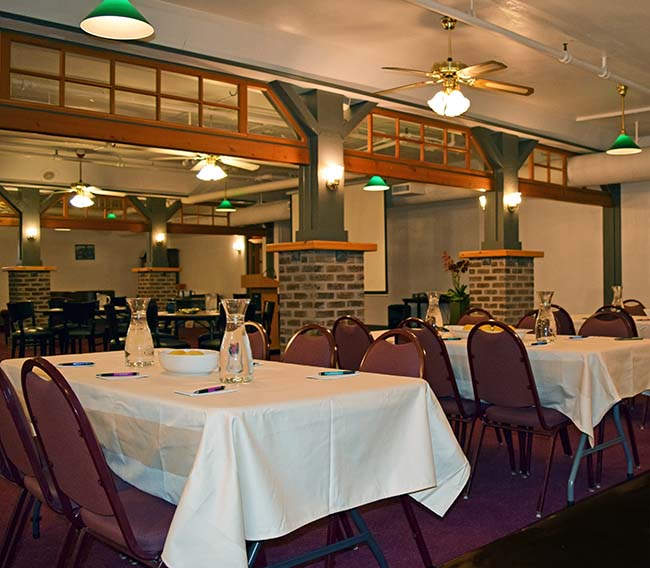 Catering
Have a culinary preference in mind for your event? The choice is all yours! Need help deciding? We recommend Broder Ost, located right on property, for some of the tastiest bites, beer, and cocktails in town. If Broder isn't your cup of tea, we're happy to suggest local alternatives.
Beer/Wine/Liquor
Our alcohol license allows beer and wine. If you'd like to serve a signature cocktail or provide a cash bar for your guests, we can help you obtain the additional license required. We can also help arrange bartenders, servers, drinks, and more. You're welcome to bring in your own product, but due to the OLCC law, the product becomes the property of the Hood River Hotel and may not leave the premises.
Security Deposits
We understand that everyone has different needs and we are more than happy to come up with a payment plan that works for you. We do ask that all payments are in before the day of your event.
Partial Buy-Outs
A partial buy-out gives you access to the property and spaces at your leisure, starting at a standard flat rate of $4,500 per day. We are happy to work with you on rates depending on the dates and services needed for your event.
We would be happy to negotiate on the rates depending on the services you and your group will need and the dates of your event. Our concierge/front desk is here 24 hours a day to answer all the fun ins and outs of the city; NOT just the standard touristy things for those who want to stay and get the full Hood River experience.
Partial buy-outs include
15 guests rooms check in at 3pm and checkout at 11am
Banquet Room event space from 8:00am – 10:30pm (with 2 hour set-up/break-down on either side)
The Club event space from 8:00am – 10:30am (with 2 hour set-up/break-down on either side)
Fire Marshall permitting for all buyout days and individual events
Use of all Hood River Hotel furniture and linens
Flat Screen TV and connectors for presentations
10 x 10 Screen and Projector in the Banquet Room
PA System with Speakers
Conference telephone
Free WiFi throughout the property
Morning coffee service in the lobby