Your Dream Wedding is Waiting
From the dinner rehearsal to late night after-party, our Emerald Wedding Package has you covered. Make your celebratory weekend in Hood River one for the books. Let our experts bring your wedding dreams to life with our all-inclusive Emerald Package or customize your own to make your wedding as unique as you are.
Book the Emerald Room
Our versatile Emerald Room offers 2,500 sq. ft. of memory-making, including a private entrance, restrooms, wet bar, dance floor, and audio equipment.We can comfortably host a seated event for up to 120 guests or a standing reception for up to 150. With a street side entrance, restrooms, wet bar, dance floor and audio equipment, we have you covered for all the elements of memory making.
Includes:
Two day use and access to the Emerald Room
Use of our 10 bed Bunkhouse on the night of 

wedding

Private access to dry sauna
Two night stay in one of our Bridal Suites
Use of Hood River Hotel furniture and linens
Use of House AV Equipment
Built in Bar Space inside the Emerald Room
Parking for the celebrated couple
Room Block up to 30 rooms max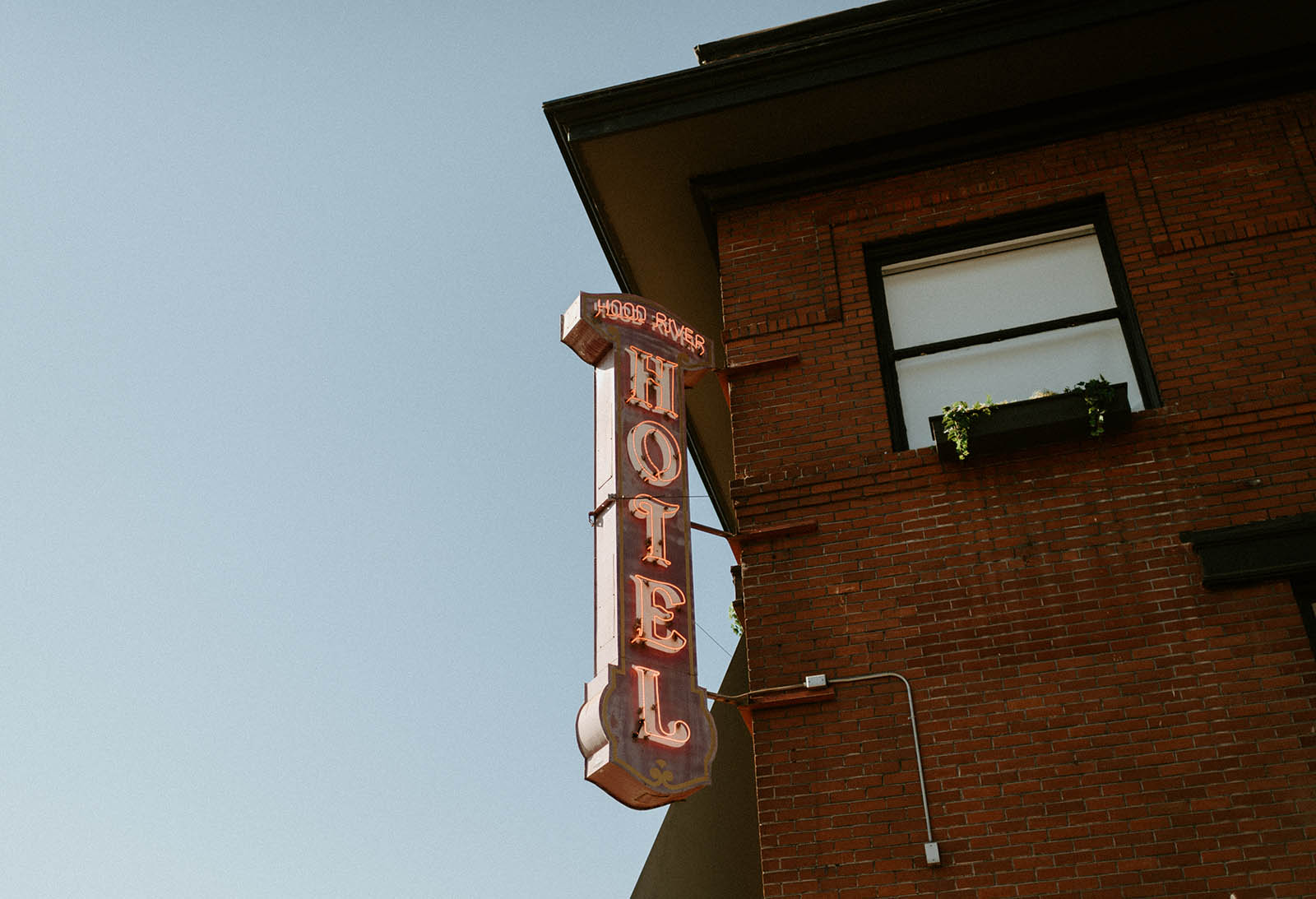 Full Buyout
Looking for something extraordinary in the heart of the Columbia River Gorge? We're in the thick of downtown Hood River, close to year round outdoor beauty & adventure, and conveniently located near public transport. From rehearsal dinners to post-wedding brunches, we want you to feel joy, know you're supporting small business in your community, and we want your wedding weekend to be the talk of the town for years to come. Let our experts help your imaginary vision become your dream reality
Includes:
• Emerald Room
• 10 Bed Bunkhouse
• Historic Lobby
• Mezzanine
• Entire Hotel Room Block
Sleeping Room Blocks
We offer room blocks for events with a minimum of 5 rooms per night and a maximum of 15 rooms held per nights. We do have a two night minimum on weekends, May through October. During our peak season we exclusively offer room blocks to groups holding on-site events to ensure an intimate experience. By reserving a group block this allows you to lock in pricing. In reality our beautiful hotel has a track record selling out 100% of its rooms seven days a week during our peak season.
Beer Wine & Liquor
Our license covers beer, wine and liquor. All alcohol for events must be provided by the Hood River Hotel. For hard liquor to be served there must be "substantial food item" provided. With no minimum, you can choose to host the entire bar, partially host or have an all cash bar. There is an automatic 20% gratuity on bar tabs. We are happy to help recommend an option that best fits your event. Bartenders are staffed 1 per 50 guests and additional bartenders are $25 per hour with a 4 hour minimum. Bar set- up fee of $150 will be applied unless a $500 minimum in beverage sales is met.
Catering
Here at the Hood River Hotel we embrace an open catering policy and won't force a menu on you. Our open arms catering policy allows you to bring in a caterer that fits your style and budget. We love to recommend the following local caterers, please see page 9 for our list of regional catering companies. A licensed & insured caterer is required when offering food.
Talk to Us
Tell us about your wedding vision, and let us make it happen! Our planning department is excited to hear what you're thinking and dreaming of.